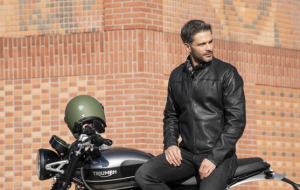 Warmer days are coming. Be prepared with Tucano Urbano's brand-new collection for Spring/Summer this year, featuring a large selection of new leather and textile jackets for both men and women, a host of gloves for a comfortable summer ride, and additional accessories to finish off a cool look.
"We've got loads of new additions to our lineup this year, and all of them are a reflection of the typical Italian style and quality that our customers have come to expect from Tucano Urbano," said Rachel Fuller, Tucano Urbano UK Country Manager. "Leading our collection this year are the new, ultra-soft leather jackets – they're smart, stylish and super easy to wear whilst riding or even off the bike – a staple that every rider should have in their wardrobe."
Known for its minimalistic and sleek style, Tucano Urbano has three new leather jackets headlining its 2020 Spring/Summer collection, all with a classic urban design for wearability on and off the bike.
RIVS
Simple in appearance but packing a host of innovative features, the RIVS jacket is a black leather jacket inspired by classic Italian design. Stretch panels have been inserted at either side of the back to create a perfect fit no matter your riding position, and for added comfort in colder conditions, there's a detachable vest inside, quilted with thermal polyester padding. Fully CE-Class A approved to provide riders with protection against abrasion and impact, without limiting riding ability, this goat leather jacket has both shoulder and elbow armour, plus a pocket for a back protector. Featuring a central metal zip with scratch-proof tank protector flap, plus a connector to attach the jacket to a trouser belt, the RIVS jacket is the perfect spring/summer riding companion.
Available in sizes S-3XL.
PEL 2G / PELETTE 2G
The PEL 2G for men and the PELETTE 2G for women – two biker-cut goat leather jackets – have been designed for simple elegance with subtle details, such as the quilted padded inserts on the shoulders and elbows, and stitching details across the chest and sleeves. For customisable style, the PEL 2G comes with a Tucano Urbano velcro label on the chest, which can be customised with the two interchangeable patches that are provided with the jacket. Both jackets come with Class A-CE approved shoulder and elbow armour, as well as a pocket for a back protector. Inside, there's a polyester mesh and micro-square fabric lining, as well as a loop for connecting the jacket to a trouser belt. With different sized internal and external pockets throughout the jacket, adjustments on the collar, cuffs and hem, as well as water-repellant external zips to keep a riders possessions safe, the PEL 2G and PELETTE 2G are new and improved versions of the Tucano Urbano customer favourites, ready for a comfortable and stylish summer ride.
The PEL 2G is available in black and brown, in sizes S-3XL (46IT-56IT), whilst the PELETTE 2G is available in black, in sizes XS-XXL (38IT-48IT).
For more information or to see the full range, visit: www.tucanourbano.com/en/