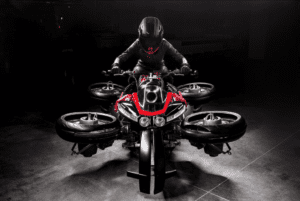 The first ever flying motorcycle has been unveiled by French manufacturer, Lazareth. Built by the famous French craftsman and innovator, Ludovic Lazareth, the machine has the code name: LMV 496. And the rider stays protected and stylish in a custom-made Furygan leather suit. For the futuristic project, Ludovic's aim was to work with partners known for their genuine know-how and passion for innovation. Ludovic put his trust in french motorcycling brand, Furygan by asking them to develop the suit of the rider – and pilot – of this exciting one-off machine.
Furygan, known around the world for their expertise in creating premium motorcycle garments, developed a custom suit and started with a blank piece of paper for the design to take into account the unique riding position. A subtle design was chosen for the suit so that it blends seamlessly with the striking look of the machine and precise measurements were taken to ensure it was comfortable and unobtrusive for the wearer.
Communication, Marketing and Sponsoring Manager at Furygan, David Robert, said: "We are extremely proud to have supported this futuristic french project. Ambition and a willingness to innovate is part of Furygan's DNA and we see it as our duty to participate in research and project in order to anticipate the needs of tomorrow and build the garments that will accompany them."
Through the project, Furygan has emphasised its ability to design and build a complex prototype and showcase their skills outside of the motorcycle industry.