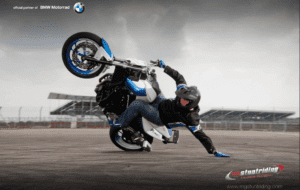 SUNDAY 25th AUGUST!
Morning session (Half Day) – 2 spots left!
Afternoon session (Half Day) – 2 spots left!
Book here: https://www.mattiegriffinstuntandwheelieschool.com/book-now
Would prefer a FULL DAY EXPERIENCE??
No problem!
Book your morning session for the Sunday 25th August and instantly receive a discount code of €70 for an afternoon session and pay only €209 for the afternoon session!
That's an once off deal and ONLY 2 SPACES available so don't miss it!
When you book in for both sessions on the same day you save money and you get plenty of riding time!
When both sessions combined, you get crazy amount of time (10 RIDDING SESSIONS!) on the bike, but don't worry, you'll have a plenty of rest time too! 😉
According to reviews of our previous HALF DAY clients, FULL DAY experience is a 'must do'!
Everyone is learning at their own pace and with Mattie's exceptional tuition you will learn new skills and techniques at each and every riding session, weather you are booked in for half or full day!
Full day experience gives you that extra 'practice time' (and trust me! You'll want it!) in a safe and controlled environment!
BOOK both session, morning and afternoon (10 riding sessions!!!) and spend a whole day learning, practicing, perfecting your Wheelies!
BOOK your Wheelie School before is too late!
Whether you want to learn the best possible way to pop a proper wheelie, at the right balance point, or spend a great day out with your friends, get ready for an unforgettable experience!
Get 1 to 1 tuition form Mattie Griffin, one of the best stunt riders in the world!
Follow the link to book on of the last 2 available spots: