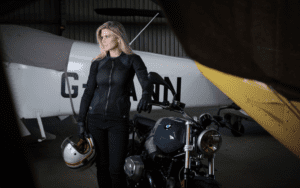 The biggest innovation in protection since Knox released the first Armoured shirt 25 years ago. The Knox mission has never deviated. To offer the best protection, comfort and flexibility, all in one unique, close fitting package. The new CE approved Urbane Pro shirt, takes these principles to a new level and reinvents how riders will wear armour. The Urbane Pro still retains all the qualities of an armoured shirt, but is now engineered with high levels of abrasion resistance in all impact areas.
Combined with world leading Micro lock Armour, Knox have created an armoured, lightweight shirt with abrasion resistance built in so it can be worn on its own when riding. It can also be worn as a foundation layer, which can be combined with any type of outer shell, be it a jacket, sweatshirt or waterproof. It offers all riders great protection, whenever, wherever and whatever they ride, in any climate. With CE certification as a Class A garment under new European Legislation pr- EN 17092, all necessary rider jacket protection sits in one amazing garment, giving the rider a complete flexible solution.
The New essential. Knox Urbane Pro Shirt –  NO JACKET REQUIRED.
Part of the Knox Layering System
RRP – £189.99 – €240