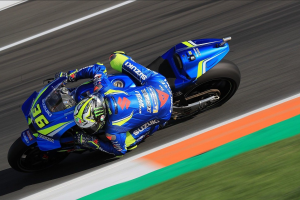 Team SUZUKI ECSTAR rider Joan Mir, who suffered an accident during the last MotoGP test at the Czech circuit in Brno last week, has finally been discharged after being hospitalised for a pulmonary contusion that saw him under medical observation for seven days.
After initial treatment at the medical centre at the circuit, he was transferred by helicopter to the FN Bohunice University Hospital, where he remained for three days. He was finally able to travel to Barcelona on Friday in a medical plane, as he was unable to compete in the Grand Prix of Austria.
Upon his arrival at the Dexeus University Hospital, his treatment was supervised by Dr. Angel Charte's medical team. Dr Charte is the MotoGP™ World Championship Doctor and Head of the Internal Medicine Unit at the Dexeus Hospital.