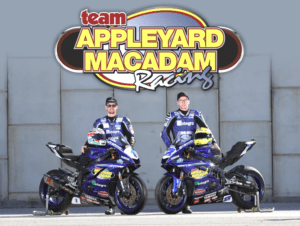 Despite crashes in practice and qualifying, the Integro Yamaha squad consolidated their Dickies British Supersport Championship lead with another dominant 1-2 at Cadwell Park. For Jack Kennedy it was his thirteenth win of the season, with an incredible 11 on the trot for the successful Colin Appleyard Macadam team.
Almost inevitably Jack secured his sixth pole position but it wasn't without drama. After he had set his ultra-fast 1:28.512 lap he crashed unhurt at Charlies on a rippled section of tarmac. Not only was this good enough for pole, it was also the fastest ever Supersport lap of this highly technical circuit.
Brad Jones had an even more dramatic start to his weekend in practice as he hit another machine through no fault of his own in a high-speed accident. In fact he crossed the start finish line separately to his bike at 130mph and battered himself in the process!
With the team given plenty of work to do to repair the two machines, the YZF-R6 were again ready to take on the highly demanding, sinuous Cadwell circuit.
In the opening 12 lap Sprint race on Saturday Jack took the holeshot and after fighting off the GP2 machine of Kyle Ryde, he controlled the race for a dominant six second win. Brad also fought with Kyle Ryde but eked out an advantage, to take another 1-2 for the Yorkshire team.
In Sunday's longer feature race, riders had one eye on tyre life but times were again fast throughout. This time Brad took off into the lead but it was just a matter of time before Jack overhauled him and started building a gap, to again win by a large margin. Brad visibly slowed suffering from his practice injury but managed to hold on to second, retaining his 100% podium record.
In the series standings Jack now holds a strong 53 point lead over his teammate with Alastair Seeley a further 15 points adrift.
Jack Kennedy said: "The team have given me a really strong bike this weekend, this place is all about compromises and our YZF-R6 worked well in both the fast and technical sections. Obviously I gave them even more work after qualifying so fair play to them. The longer race I anticipated a waiting game to keep the tyres good but actually I had to push hard almost from the off but it all panned out well. We also had strong wind and backmarkers to contend with so there was plenty going on, so I'm well happy with two wins."
Brad Jones added: "It's been an interesting weekend, it was a fast old crash on Friday! I really struggled in that last, longer race today as my ribs were killing me but somehow we held on. So all things considered, 40 points is a right result."
Team owner Robin Appleyard summed up: "It's been a cracking weekend, even if it started off with some drama! Brad was unlucky to have a big off which was none of his own fault but then battled through the pain for two really strong performances and again took more points from Seeley. Jack is on another level at the moment, circulating at record pace lap after lap.
The team again pulled out the stops after two crashes to get the bikes back to A1 condition and we look forward to Oulton Park with some exciting opportunities for 2020 already taking shape."
Dickies British Supersport Championship Standings
Jack Kennedy (Colin Appleyard Macadam Yamaha) 345
Brad Jones (Colin Appleyard Macadam Yamaha) 292
Alastair Seeley (EHA Racing) 277